Join the Nasonville Dairy Family
Cheesemaking Careers in Central Wisconsin
For more than a century, our family has been working hard — together — to provide our amazing natural cheese to customers across the globe. Nasonville Dairy is a fun, dynamic environment that offers countless opportunities for our employees to learn and grow.
Understanding the basic knowledge of how to make cheese with a licensed cheesemaker at all times. Measure and record ingredients, stir (agitation), add ingredients, perform TA (Titratable Acidity) while conducting proper Good Manufacturing Practices. Training will be provided for the proper preparation and packaging of the cheese. Assist with product storage and cleanup of all equipment. Record, monitor, seal, and box the product manually.
Help customers with engagement, suggestive selling, and sharing product knowledge. Customer service by greeting them in a welcoming manner. Cash handling and basic math. Respond to customer questions and concerns. Direct customers by escorting them to racks and counters. Answering phones, cheese labeling/packaging, shelf stocking, product ordering, and general cleaning is required. Always maintain a positive attitude.
This seasonal position will maintain at least 40+ hours/week and will be available to start Oct. 1st, 2020 - January 8th, 2021. This position will consist of many different jobs throughout any given day including: packaging gift boxes, labeling cheese, shelf stocking, helping customers, answering phones, and general cleaning. Mail Order season consists of high volumes of customer orders and a fast pace environment. Always maintain a positive attitude and look to go the extra mile.
Nasonville Dairy Main
10898 Hwy 10 West
Marshfield, WI 54449
Nasonville Dairy North Plant
N14505 Sandhill Ave.
Curtiss, WI 54422
Weber's Farm Store
9706 County Rd H
Marshfield, WI 54449
Heiman Holsteins
11875 US Hwy 10 West
Marshfield, WI 54449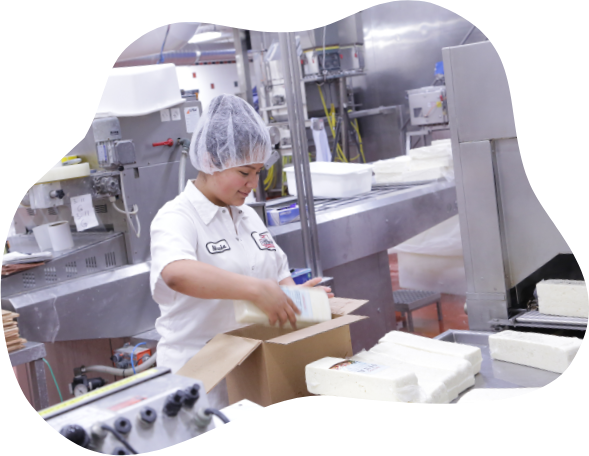 All Hands On Deck
At Nasonville Dairy, we believe in working together. You'll find our company owners out on the production floor side-by-side with our employees. No task is too small, and no person is too big.
We're passionate about making great cheese — and we do it with a team that feels like family.