Join the Nasonville Dairy Family
Cheesemaking Careers in Central Wisconsin
For more than a century, our family has been working hard — together — to provide our amazing natural cheese to customers across the globe. Nasonville Dairy is a fun, dynamic environment that offers countless opportunities for our employees to learn and grow.
This position will consist of milking cows every other weekend on a set schedule. The milking system on the farm is a 40 cow rotary parlor. Approximate time for milking and cleanup is 5-6 hours. Cows are milked 3 times a day, 2:30am (1st milking), 10:30am (2nd milking) and 6:00pm (3rd milking). Night shift differential premium. More hours may be available occasionally. Training will be included.
Production of high-quality cheese that starts with all personnel having an important role throughout the workweek. Prior experience in the dairy industry is preferred, especially in manufacturing. All personnel will be trained on a monthly and yearly basis. Knowledge of Good Manufacturing Practices, HACCP, and OSHA is desired. Able to perform at a high level in a fast-paced environment. Able to lift 40 pounds frequently and 50 pounds occasionally.
Duties include showing up on time and willing to work hard. Assisting all milk truck haulers in unloading their tankers and washing the trucks. Experience in washing storage silos, driving quad truck, driving tractor trailer and paperwork. Required to get a Bulk Milk Samplers license, which Nasonville Dairy will assist with.
Nasonville Dairy Main
10898 Hwy 10 West
Marshfield, WI 54449
Nasonville Dairy North Plant
N14505 Sandhill Ave.
Curtiss, WI 54422
Weber's Farm Store
9706 County Rd H
Marshfield, WI 54449
Heiman Holsteins
11875 US Hwy 10 West
Marshfield, WI 54449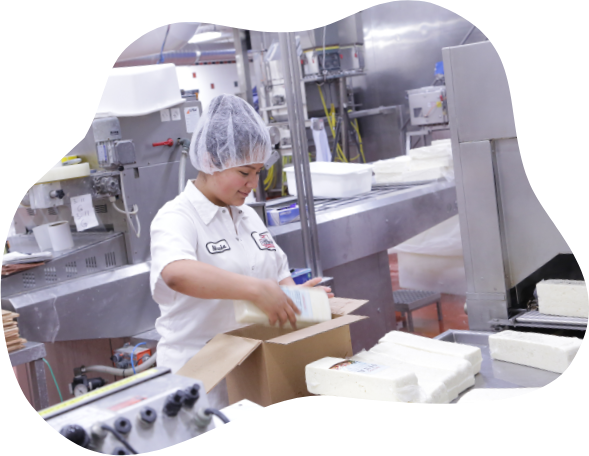 All Hands On Deck
At Nasonville Dairy, we believe in working together. You'll find our company owners out on the production floor side-by-side with our employees. No task is too small, and no person is too big.
We're passionate about making great cheese — and we do it with a team that feels like family.