A Wisconsin Legacy
Nasonville's Long History of Cheesemaking
Nasonville Dairy was founded in 1885, making it the oldest cheese plant in Wood County. After more than 130 years of perfecting our recipes and processes, we know the ins and outs of the cheesemaking industry — we maximize efficiency and quality for our customers.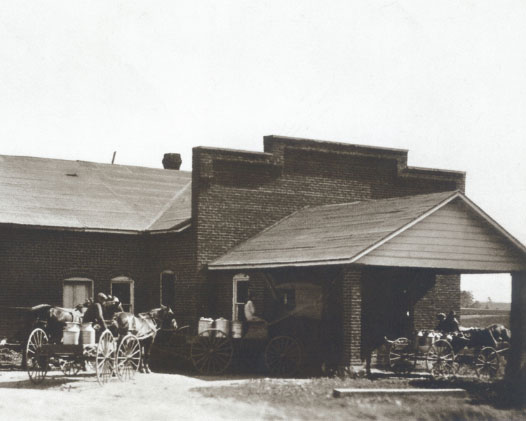 A Local Dream
Nasonville Dairy came from humble beginnings
Nasonville Dairy started with a pledge of milk from just 50 cows delivered on horse-drawn wagons.
A turbulent economy took its toll on the cheese plant for many years. It became a cooperative owned by the dairy farmers, only to be sold back to a private entity around World War II. It was then bought again by the Lincoln Center Co-op.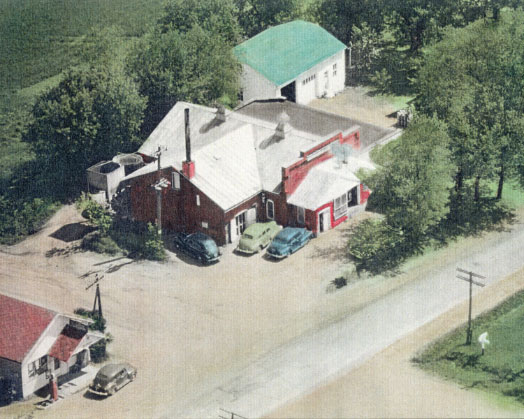 A New Chapter
The Heiman family revived the cheese plant
In 1968, Arnold and Rena Mae Heiman came to the Lincoln Center Co-Op as managers with their three sons, Ken, Kim, and Kelvin, and daughter, Kathy.
The family had experience running cheese plants throughout the state. Driven by a passion for the art of cheesemaking, they kept the Lincoln Center Co-Op running with new vigor. In 1985, they purchased it themselves — and Nasonville Dairy was born again with its original name.
The Heiman's oldest son, Ken, became a licensed cheesemaker at the age of 16. Soon he was joined by his brothers Kim and Kelvin — and later on, his sister Kathy would contribute to the cheese plant's operations as well.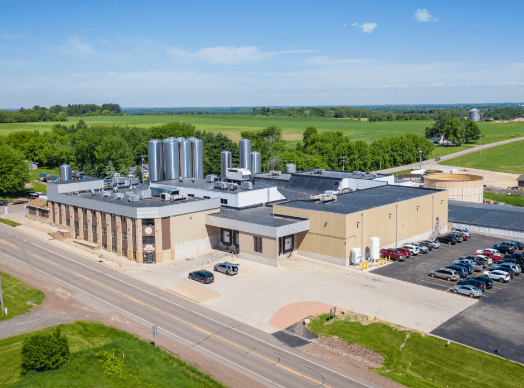 Continued Success
Nasonville maintains a family tradition of quality
Today, Nasonville continues to create a tight-knit, "all hands on deck" atmosphere. While we run a large, efficient operation — we buy milk from more than 190 local farms to produce over 160,000 pounds of cheese each day — our family-focused team is the heart of everything we do.
We're proud to have 17 licensed cheesemakers, four Wisconsin Master Cheesemakers®, and dozens of dedicated staff members working in our plant day in and day out. It is our mission to provide the highest quality products to our customers. Nasonville Dairy is known for our unique flavors like the flaming hot Carolina Reaper and meltable Blue Marble Jack™, but we're proud to maintain our time-honored recipes for the classics, too.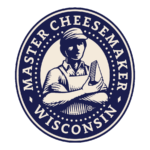 Four Wisconsin Master Cheesemakers®
The coveted expertise of a Wisconsin Master Cheesemaker® is sought all around the world. In order to earn this exclusive title, Wisconsin licensed cheesemakers need to have ten years of experience — then complete rigorous courses at the University of Wisconsin-Madison, pass plant audits, and meet the highest standards in annual product tests.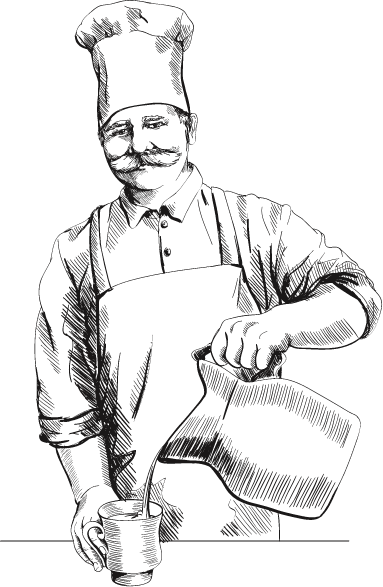 Ken Heiman
Asiago, Cheddar, Feta and Monterey Jack Master Cheesemaker®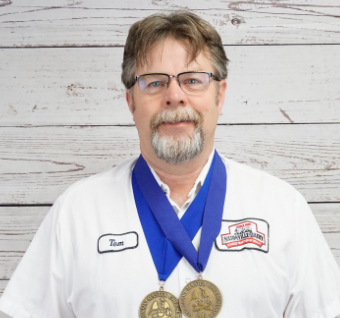 Tom Torkelson
Brick, Gouda, Cheddar, and Muenster Master Cheesemaker®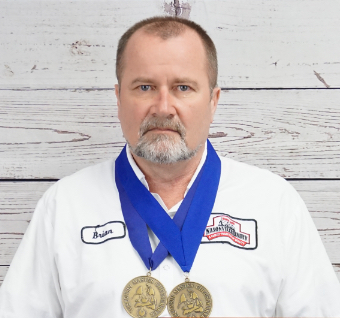 Brian Jackson
Cheddar, Colby, Monterey Jack, Gouda, Brick, Muenster, Asiago, and Feta
Master Cheesemaker®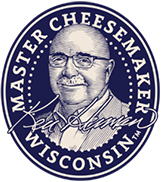 Ken was born and raised in the cheese industry. His family started at Nasonville Dairy in the 1960s, and he became a licensed cheesemaker at the young age of 16. One of his favorite things about making cheese is the unique combination of art and science it takes to get a flavor just right. Ken is particularly passionate about carrying his father's legacy forward and continuing to improve his craft. He loves biting into a piece of extra-sharp cheddar and appreciating just how much effort went into the texture, flavor, and complete experience.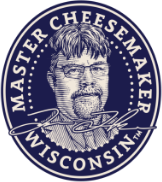 Tom grew up on a small dairy farm. He's been in the industry for as long as he can remember, and he wouldn't have it any other way! He was just 21 years old when he bought his first cheese plant, and after years of hard work and study, he joined the elite ranks of Wisconsin's Master Cheesemakers in 2008 . He's passionate about the variety in cheesemaking — he's worked with cow, goat, and sheep milk to create a wide range of flavors.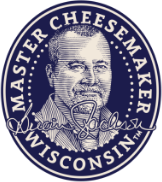 Brian started making cheese at the age 16 when his father told him he needed to get a job if he wanted to buy a car. Decades later, he still loves the cheese industry — and he takes pride in being one of the most elite cheesemakers in both the state and country. His personal favorite cheese is asiago. He says that no matter what profession you're in, it's important to always continue perfecting your skills.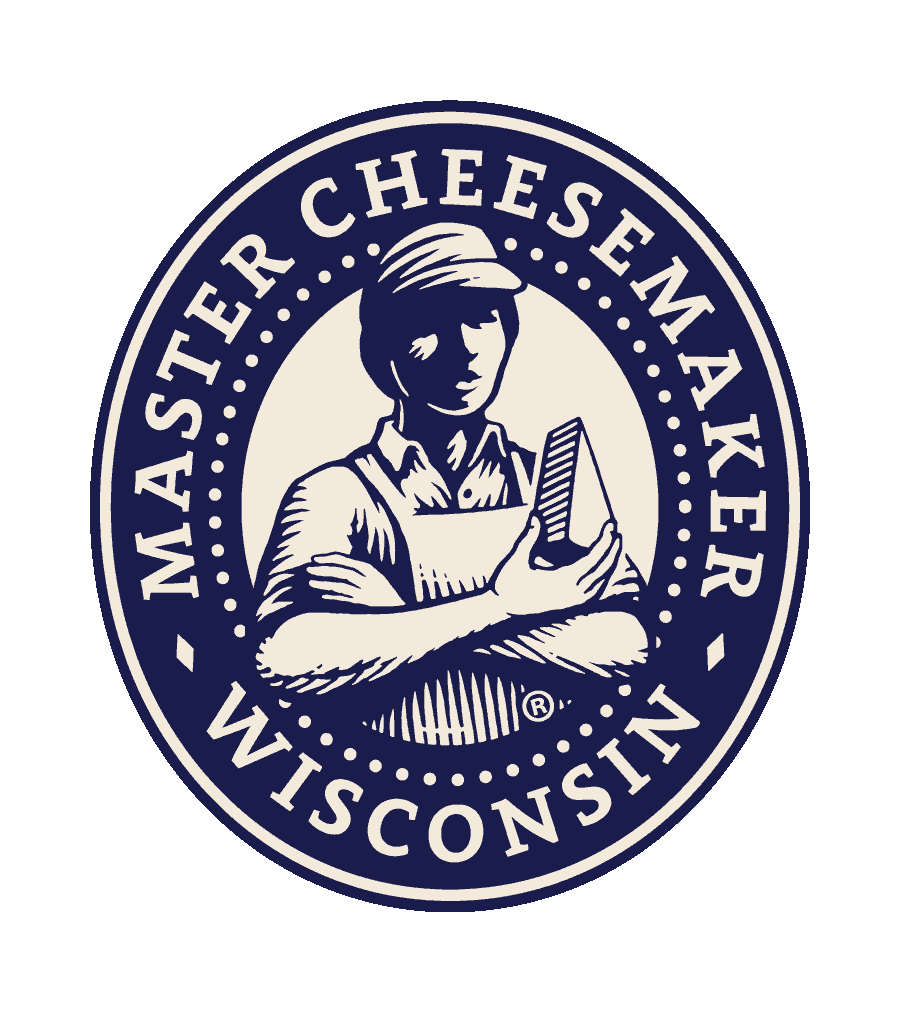 Kirk Hansen started working in a dairy plant his junior year of high school. He had grown up on a dairy farm but "Dad" sold the cows – so off to the dairy plant for work. Kirk never looked back! The dairy plant was Nasonville Dairy. Kirk is the most recent of the WI Master Cheesemakers at Nasonville and has earned that status in both Cheddar and Monterey Jack cheese varieties. Kirk has experienced many job functions in his 20 plus years of service to Nasonville Dairy and the company is proud of Kirks work ethic and can do attitude. Kirk loves what he does and we think it shows!
Community Commitment
We love living and working in Central Wisconsin — and we believe in giving back to the community. It's part of our mission as a family-run operation with deep local roots. Some of the ways we make a difference:
Support children's wellness and education intiatives
Sponsor dairy fairs and 4-H events
Partner with a variety of local nonprofit organizations